British Columbia Front License Plate Debate



There's really no good excuse for having no front licence plate.
Corporal Michael McLaughlin
Royal Canadian Mounted Police, Coquitlam Detachment (2019)

Why, you may be asking yourself, does British Columbia still require motorists to display a front license plate? The answer is simple, displaying two license plates presents clear "benefits to road safety, law enforcement, stolen vehicle recovery, insurance claims investigations, tolling authorities, Amber alert partners, municipalities, parking lot companies and the trucking industry."

The American Association of Motor Vehicle Administrators (AAMVA) further advises that studies have consistently demonstrated that front license plates improve identification of vehicles in critical situations either through eyewitnesses, electronic readers, or cameras and it encourages all of its members - which is basically every issuing jurisdiction in North America - to issue front and rear plates.
Despite the benefits of front license plates being fairly clear to this writer, there exists a small segment of the population that can regularly be relied upon to advocate for the abolishment of front license plates in BC.

Consider the election of a new provincial government in British Columbia in May of 2001, and its commitment to a New Era in the delivery of government services. One of their innovations was the creation of a "Waste Buster" web site where citizens could email in their complaints regarding un-necessary government spending.
The scrapping of front license plates received enough attention via the site that the government opted to post an explanation of why it would not do away with the two plate system. The following is the official response as it appears on (the now defunct) wastebuster.gov.bc.ca in 2002:
Suggestion:
Eliminate front licence plates.
Response:
ICBC has in the past reviewed the issue of removing the front plate requirement and determined that there were too many good reasons to keep the front plate that outweighed the production cost savings. The savings of eliminating the front plate would be less than might be expected because only a portion of the manufacturing costs are saved (the front plate accounts for much less than 1/2 the production costs). Because the ordering, inventory and distribution costs remain essentially unchanged, the overall savings would be around 1/10 of the total costs for the licence plate program.

Although some other provinces have done away with the front licence plate, BC has not done so for a number of reasons. There is great benefit in that our highly reflective licence plates enhance road safety by making vehicles more visible at night when parked or driving without headlights. This is especially true in low light, drizzle or fog conditions so common in BC's coastal regions. Safer roads equate to less insurance claims resulting in lower insurance premiums.
BC Law enforcement, crime prevention groups, and municipalities have supported the front licence plate requirement for reasons that include accident reconstruction, examining oncoming traffic while approaching a crime scene, identification of vehicles towing trailers, and looking for stolen vehicles to name just a few positive benefits.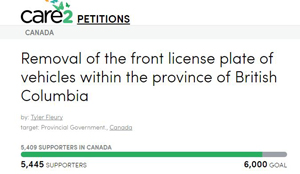 Case closed, one would think ... but no. In April of 2016 an online petition was started "for the removal of front licence plates within the province of British Columbia" (and garnered some unquestioning media coverage). The reason for the petition? According to the petitioner, they "serve no purpose" - which we think is an unsubstantiated claim that is demonstrably false (see our comments above). In addition, the petitioner claims that front plates,
are ugly (subjective);

devalue vehicles (subjective);

are not required in some other provinces (does that make it right?); and

elimination would save money (debatable, does not properly account for cost of not having front plates).
To view the petition,
Click Here
(
UPDATE
: almost a year in and the petition has
not
met its goal of 6,000 signatures - which represents approx. 0.01% of residents in BC). (
UPDATE NO. 2
: 3.5 years later and the petition has
still
not
met its goal of 6,000 signatures "In Canada", and has only added about 30 signatures since our last update).
We question the seriousness of the petition and its supporters and if they felt this strongly about their cause and believed the good citizens of British Columbia were behind them, why not go through the formal Initiative process offered by Elections BC and try to enact real change?

Regarding the argument that a majority of other provinces do not require front license plates, we believe that this is somewhat a reflection of poor policy decisions being executed for short-term political purposes (i.e. to show, in a highly visible way, that a government is attempting to reduce costs in trying financial times). For those who are curious, the following maps show which provinces and states require front and rear license plates (as of 2015):
| | |
| --- | --- |
| | |
In the absence of a change to the law in BC, a small group of car owners not wanting to "ruin" the look of their vehicles have begun to push the envelope by purchasing full-size replica magnetic decals that can be affixed to the front of their vehicles with the need for drilling holes and a mount.
It is not easy to catch these plates sitting still out in the wild, but we have managed to accumulate some good photos over the years:
"TROFEO" is Italian for "Trophy" (according to Google Translate) - how fitting on a Ferrari! However, running these types of plates on the front of your car will place you afoul of the law and, if caught, likely result in a couple of hundred dollar ticket.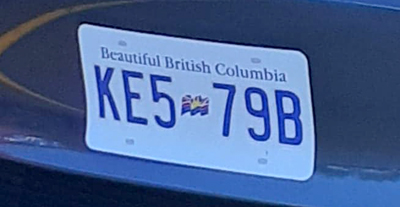 While there is a lot of idle chit-chat onlnie about the risk of driving without a front plate, and this includes the use of a home-made magnet or photocopy, the police do take it seriously and in late 2020 one unfortuate North Vancouver motorist got busted taping a paper plate to the front of their car to the tune of a $109 ticket from the RCMP.
Even better, they were roundly mocked on news sites for claiming the paper plates improved the 'performance' of their car with one creative columnist referring to the plate as the car's "soul patch" (Ha! good one, we like ...).

In fairness, is there actually any sort of performance enhancement to be had with no front plate? Theoretically there is some benefit from a reduction in aerodynamic drag and a loss of weight, but very, very little.
Speaking of being ticketed for not displaying a front license plate, it does happen. The driver of "Tha Hora" (it's a car art thing) modified their vehicle with a tail on the back end, a large old-style grill on the front and a zombie and half-human creature on the top. What it didn't include, however, was a BC licence plate attached to the front of the car as required by law under the Motor Vehicle Act.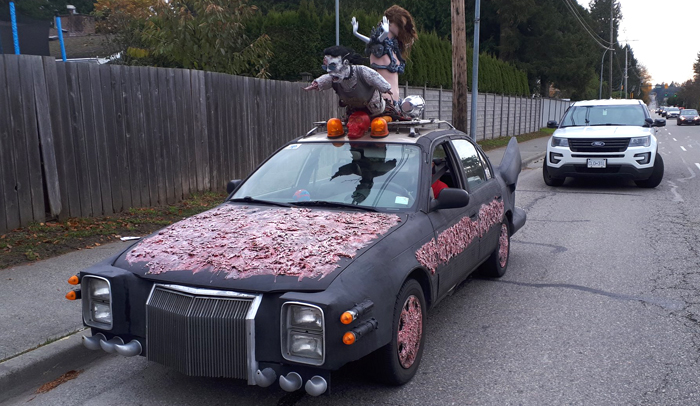 Delta police confirmed that the driver wasn't issued a ticket and was likely given a verbal or written warning to get the plate attached. Don't be a Hora!
* * * * *
An interesting twist on the front license plate debate is beginning to take shape in the United States (as of December 2019) with the major companies behind popular "ride-hailing" apps such as Uber and Lyft coming out in favour of front license plates and lobbying state governments to mandate their use as a safety precaution.
This is a result of some horror stories involving women ordering a ride only to mistakenly get in the wrong car, with the tragic result that they were kidnapped and killed. According to Uber, "we believe the requirement of a front license plate can create a safer environment for all users."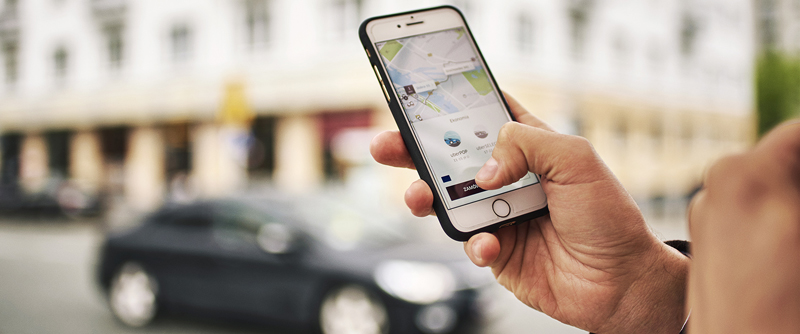 © Copyright Christopher John Garrish. All rights reserved.