British Columbia Personalized License Plates

The history of vanity plates in British Columbia, or as they are more often referred to today; Personalized license plates, is a much longer tradition than one might initially suspect. We are all familiar with the current incarnation of these plates; the specialty base plate designed in 1980 specifically for motorists wishing to personalize their car with a certain slogan or combination of letters and numbers. The reality, however, is that since the first B.C. plates, some people have sought out "that one plate" which best represents who they are as an individual.

From 1913 until 1969, with the brief exception of a three year period between 1952-1954, the province generally issued all of its plates based on a four (0-000) to six digit (000-000) format, commencing at number one. Unlike other jurisdictions across North America, British Columbia did not engage in the practice of reserving low license plate numbers for dignitaries or high-ranking politicians. The only exception to this rule is made for the Lieutenant-Governor who, as the Queen's representative and the nominal head of the province by law, may not be taxed.

To distinguish the Lieutenant-Governor's car, a large, die-struck British Columbia coat-or-arms is attached to a generic base-plate and affixed to the official vehicle. Consequently, low-numbered plates remained available to the public often on a first-come, first-served basis. That the old central office of the Motor Vehicle Branch (MVB), in Victoria annually reserved the first block of numbers further created an opportunity for motorists to play a numbers game and vie for specific plates.

Under the province's registration system, plates usually remained valid for a two-month grace period after their annual expiration, and new plates could generally be purchased in the first week of January or February. This resulted in the formation of long lines outside the Victoria office on the night before the new plates went on sale as drivers sought to obtain their coveted numbers. The rule-of-thumb in distributing plates was that if a motorist had displayed a specific number the year before, they were entitled to request it again the following year. If, however, a registration was allowed to lapse, which was usually a few weeks after plates began to be issued, the number would be re-assigned to the first person to ask for it.

Senator Hewitt Bostock
British Columbia rancher and fruit-​grower, Hewitt Bostock settled in Canada in 1893 at the age of 29. He arrived with a degree in mathematics from the University of Cambridge and qualifications to practice law from Lincoln's Inn, London – neither of which he used in his new career – and a certain amount of wealth from his late father's investments.
In 1894, he founded the Province as an anti-Conservative weekly newspaper in Victoria, and four years later he moved to the mainland to re-found the paper as the Vancouver Daily Province; it would grow to have the largest circulation in British Columbia. He started up his second paper, the Kamloops Inland Sentinel, in 1896 to support his successful campaign as a Liberal for a seat in the House of Commons. He did not run in the general election of 1900, and was nominated for appointment as a senator by Prime Minister Sir Wilfrid Laurier in 1904.
In 1914, Bostock became Leader of the Opposition in the Senate. While serving in this position, however, he was in favour of conscription as proposed byConservative Prime Minister Sir Robert Borden's Military Service Act of 1917, and supported Borden's Union government. Later, he reconciled with the Liberals, and the new Liberal Prime Minister William Lyon Mackenzie King appointed him to two Cabinet posts in December 1921–January 1922.He resigned both positions in February to accept the Speakership of the Senate, which he held for more than eight years, the longest term until the 1990s.
In 1925, Bostock was chosen as one of Canada's three delegates to the Sixth Assembly of the League of Nations in Geneva.

Registration data for 1923 shows that numbers ranging as high as the 8-000 range were becoming the subject of special requests, but invariably the most popular was for No. 1. In 1928 alone, the MVB received 88 requests by mail alone seeking the coveted first plate, including one from the widow of the late Dr. Miller, ex-plate holder of the 1927 No. 1. While all low numbers were inevitably sought after, other plates also held significance for motorists. Poker hands, such as 1111 (denoting four aces), and bridge hands were a popular choice, along with historic dates such as 1492 and 1066, phone numbers, and house addresses.

Other interesting stories have been related involving plate #54 which was sought by the Provincial Secretary in the 1950s at the behest of his children, after the popular television show "Car 54, where are you?" In this case, the best that the MVB could provide was #52, which happened to be the first year the Secretary had been elected, and the year that his party had come to power - so he accepted. It was also reported that a sales representative of the Heinz Company routinely reserved plate #57 (for obvious reasons).

Competition for these numbers became so intense over the years that the MVB eventually resorted to implementing a special reserve list that only applied to numbers between 1 to 7,000 - a total that was later reduced for administrative purposes to numbers 1 to 3,000. Special exemptions to this rule were allowed for Premier John Hart in the 1940s, who requested plate number 15,000 for use on his own vehicle. The province's fleet of cars was also reserved numbers between 19,000 to 19,999 in the 1950s and 1960s.

The history of plate No. 1 in this period provides the most interesting tale of all the "vanity" number plates. After registering the first motor vehicle in British Columbia in 1904, John Barnsley would maintain the No. 1 plate until 1919 or 1920. Its ownership throughout the 1920s is little less clear but it was reported in 1923 that the plate had been issued to Dr. G.L. Milne, medical officer for the Dominion Immigration Department.

Later, in 1928, MVB records indicate that Pauline Miller, wife of Dr. Howard Miller attempted to retain the No. 1 following the death of her husband stating that "as Dr. Miller held it for so many and I should like very much to have it for reasons of sentiment." A blank cheque was provided to the Superintendent to help facilitate the request:

By the 1930s it had become the property of General Noel Money (builder and proprietor of the Qualicum Beach Hotel on Vancouver Island). Money would have the number until 1938 when the Department of Public Works "got its application in first and obtained the plate."

Of course, convention would seem to suggest that as the previous year's holder of the plate, Money retained the right of first refusal. The province, however, had different ideas. Public Works attached the plate to the official government car used for transporting the premier, visiting dignitaries and other notables such as the Senior Naval Officer of the Pacific Fleet.

Premier Duff Pattullo

Duff Pattullo

Plate No. 951

951 Beach Drive, Victoria

It should be noted that while the official provincial vehicle displayed the No. 1 after 1938, Premier Pattulo's personal vehicle had displayed plate No. 951, the same number as his residential address on Beach Drive in Victoria.

The province would retain the rights to No. 1 through 1954 and the three-year, experimental Totem base plate. With the return to a six digit (000-000) format in 1955, the MVB warned motorists that the headache of deciding whom to award plate No. 1 to did not warrant its re-release. Instead, it was now to be hung from the wall of the central office of the MVB in Victoria as a "memento."

By 1966, the number of people requesting plates from the reserve list had skyrocketed from a reasonable 1,800 in 1946 to an astounding 35,000. Suggestions had been made in the late 1950s of introducing the first "personalized" car plates in attempt to exploit this growing demand. Simple in form, they would have offered motorists, for a five-dollar fee, the issuance of a special number, while ten dollars would grant the potential to have initials "such as that of their girlfriend" put on a plate. However, after the filing difficulties associated with the Totem serial format, this suggestion was unlikely to ever see the light of day. Nevertheless, the administrative cost of sorting out over thirty-five thousand applications for less than three thousand plates was unsustainable. Equally problematic was British Columbia's six-digit format as vehicle registration was slowly progressing towards the one million mark, and the exhaustion of the series.

Hard to believe, but the run of No. 2713 was photographed in 2019 and were found still in the house of the motorist they were issued to between 1956 and 1969 - being 50 years ago! Even better, this is an example of a motorist obtaining a license plate number to match their house number.

In preparing for the transition to a new alpha-numeric combination in 1970 that would be renewed annually through the use of validation decals, the Attorney-General, Leslie Peterson, was adamant that the end of the 000-000 format would also mark the end of the special reserve list. He was quoted at the time as saying: "It is a big expense to the taxpayer to service a small number of people."

Despite the Attorney-General's best intentions to save the taxpayers money, what did not change was the distribution of plates from the central office of the MVB in Victoria. In keeping with tradition, the provincial capital was to once again receive the first bloc of plates. And, predictably enough, at midnight of the day the new series were to go on sale, a line formed outside the MVB offices to obtain AAA-001 (the law stipulated that AAA-000 was invalid, as zero was not seen to be a number). After waiting eight hours, and having been shown the coveted plate by a clerk working inside the office, the first person through was awarded with plate AAA-003!

For two weeks the MVB remained silent on the subject as the local press speculated as to where the first two plates may have ended up? All that the authorities were willing to concede was that the plates had been legally issued, but not to any MVB employees. When the truth finally came out, it was revealed that a clerk with the Liquor Control Board (LCB) had been awarded plate AAA-001 (AAA-002 had gone to a member of the Canadian Armed Forces). The LCB had routinely loaned employees to the MVB in previous years to assist with the January rush, an opportunity this particular LCB employee used to their advantage!

The 1970 base plate would be used for three years, and when a new base was introduced in 1973, the series would start at LAA to XKK, with Victoria being given a 200,000-plate bloc in the VD range. With no apparent low numbered plates now available to motorists, pressure began to build on the province by the end of the decade to follow the lead of Ontario, and numerous other American states to introduce a special personalized plate.

Acting in his dual capacity as Minister of Energy, Transport and Communications, Premier Bennett announced in May of 1978 that, following the hundreds of requests from motorists, he would be taking a proposal to cabinet allowing license plates to carry unique names, numbers or messages. Beginning July 2, 1979, the province began accepting applications for slogans on a first-come, first-served basis, at a cost of $75 for five years in addition to the average $22 annual license plate fee.

Production of the plates was farmed out to Acme Signal Signs of Montreal, while design problems prevented the plates from being issued until late December of 1979. The Minister of Highways presented the first personalized plate; "HEALEY," in a ceremony on December 6, 1979, to Richard Rogers of White Rock for use on his Healey sports car.

That wonderful feeling that comes when affixing a new personalised license plate to your car!

Although slogans could be anything from two to six characters, the MVB was so determined that nothing offensive, or any double entendre slip through that everything from foreign language computers to mirrors were employed to catch offending phrases. Some of the most popular requests were for "BIG MAC," "SMOKEY," "HELP," and "MAYDAY." Many other slogans, however, would not make it through the MVB's list of 2,500 unacceptable words culled from the brainstorming of Branch employees, and lists provided by Texas, Oregon, California. Some of the forbidden words revolved around any references to drugs, liquor, race, politics and sex, including "SEX."

Of the first 2,000 applications only fifty-five were to be rejected, including "IMEASY," "IM4SEX," "HOOKER," and "GORF" (frog backwards – a cultural insult in Canada). Over the years there has been almost no change to the design of the personalized plates. The now familiar mountain-ocean graphic was the first graphic base plate ever issued in the province. Astrographic Industries Ltd. took over production of the plates in the mid-1980s when it won the contract to supply all of the province's license plates.

| | |
| --- | --- |
| | To promote a 1996 freeze in insurance rates, ICBC opted to use the image of a personalised plate and plate speak ("R8 FREEZ" = Rate Freeze) on a pamphlet provided to motorists with their insurance papers that year. |

3M inks for use on 3M reflectorized sheeting are employed in the manufacture of the plates. The mountains are colour code 708 (green), the ocean; code 5901V (blue) and the digits; colour code 705 (black). There does exist brief run issued in the mid-1990s in which the paint used on the digits is a very noticeable light blue. As it turns out, this lighter blue is actually closer to the original specifications for the character colours. With the switch to Waldale in late 2002, ICBC has taken steps to have the paint colour on all PLP characters brought back to spec. This has resulted in a very noticeable light blue on the plates (similar in tone to the colour found on the numbers and letters of the standard passenger plates).




A great story with these "RETIRED" plates is not only the fact that they come in 7-digits (as normal personalised plates only come with a maximum of 6-digits) but that they were issued by the Motor Vehicle Branch (MVB) to retiring employees. It is not known how many of these the MVB handed out over the years, but it is thought that ICBC has not carried on the tradition.




* * * * *

We aren't sure if this is an early prototype personalised license plate - as it is utilising the 1979 passenger base with reversed colours? Or, is it a manufacturers specimen of the actual passenger base - as it displays the alpha-numeric AAA-000 serial?

Either, it is displaying a somewhat cool combination of letters and numbers and was intended to convey a specific slogan

.

It is difficult to see in this photo, but the background on this plate is unfinished aluminium and is likely a test plate possibly utilising materials provided by ... Alcan(?)

For what is thought to have been a very brief run of personalised license plates manufactured in the mid-1980s, the mountain graphic at the top of the plate was erroneously reversed. The plate at left (OL-PAPA) displays the error, while the plate at right (IMAGE) shows the standard layout.

Another odd quirk that appeared in the design of the plates was the use of a lighter shade of blue paint on the slogan. The plate at left (MURALS) shows the variant, while the plate at right (2 GOOD) shows the more traditional shade of dark blue used by Astrographics between 1985 and 2002.

Similar to the plate left, here is another 7-digit personalized plate. This time, however, we are not sure what the purpose of the plate was (NOTE: it does not appear to have been issued).

While we are not quite sure what there is to envy about a trailer floater (unless there was something cool being hauled upon it), we suspect that this plate is a mock-up that was made by someone at Astrographics back in the late 1980s. The "4U2NVY" (For you to envy) slogan is pretty cool and worthy of inclusion as a personalised plate - even if it is not valid!

ICBC also discourages the use of corporate names on plates, but here is an example of a clear reference to General Motors ("GM") from early in the personalised license plate program.

Apologies for the poor photo quality, but this is a rare plate and needed to be shown! ICBC does not generally make these SAMPLE personalised base plate available to the public, or collectors, but this specific plate showed up at the 2002 ALPCA Convention donation auction (within the pile of plates donated by the various Motor Vehicle Issuing Authorities located across North America).

Why is an Olympic plate shown here? Look closely ... the "BC" suffix was never reserved for the Olympic bloc (which was only "AA" to "AK"! Rumour has it this special was prepared for Premier Campbell for use on his personal vehicle. And, judging by the slogan, while this is a valid commercial truck combination, we think it more properly constitutes a unique vanity plate, much like the one issued to Rick Hansen ("EXPO-86") all those years ago.

Even though ICBC tends to try and discourage the use of the letters "BC" in Personalised license plates, it is not without precedent as can be seen in the plate shown above.


With the switching of utility trailer plates to an alpha-numeric code, all letters in the alphabet became available for use on smaller die plates, allowing personalized license plates to appear on motorcycles for the first time in 2000.

Above is a prototype of the personalised motorcycle license plate manufactured by Astrographic's it is assumed sometime around 2001.

We aren't sure how or why ICBC allows this to happen, but there are companies who advertise on the internet reproduction BC plates, including vanities and the above is such an example (displayed on some 1940 car at the 2013 Pacific Northwest Deuce Days in Victoria). From a distance, we imagine it would be very difficult to determine if this was real or fake ...


It is not clear if this plate was issued to a vehicle due to the "69" number and the use of two consecutive dashes.

In the Fall of 2002, ICBC awarded the contract to produce BC license plates to Waldale Industries of Am

h

erst, Nova Scotia. With this change in manufacturers came an obvious change in the types of dies being used to stamp out the plates. A subtler change, however, can be seen in the placement of characters on the personalised base plate along with the colours used.

Note that on the plate shown at left, the slogan bleeds into the ocean graphic, whereas on the plate shown at right the slogan has been shifted slightly higher in order to improve legibility. The other

change

relates

to the colour of the slogan and ocean graphic, which are now the same shade of blue as is used on the standard passenger plate.

* * * * *

WTF!

It is well known that license plates can commonly induce bouts of absurdity from otherwise normal people (the examples are too numerous to list here). Generally, these instances of silliness do not extend beyond the issuing jurisdiction, however, in June of 2008 one particularly priggish motorist in North Carolina managed to bring the national media spotlight to bear on three, otherwise innocuous letters: "WTF".

Mary Ann Hardee

As the story goes, the "WTF" letter combination was the first one available to motorists when the state switched over from blue- to red-lettered plates, and just under 10,000 sets were issued, including a pair to 60 year old grandmother and elementary school teacher Mary Ann Hardee. Not unreasonably, Hardee was blissfully unaware that, in the vernacular of cell phone text messaging, "WTF" is a commonly used acronym denoting "what the f***!"

When Hardee's teenaged grandchildren tipped her off as to the techno-shorthand of her license plate she apparently developed such an acute case of "self-consciousness", that she petitioned the DMV for replacement plates (free of charge, of course). The DMV obliged and went a step further by offering to replace all 10,000 "WTF" sets free of charge.

So, what does this have to do with British Columbia license plates? Well, ICBC (along with every other issuing authority), filters and reviews all proposed personalised plate slogans in order to catch combinations deemed "offensive". One such tool that is commonly used is the Internet Acronyms Dictionary (which, incidentally, includes "WTF").

It was, therefore, with some surprise and mild amusement (actually, I was LMAO) when one of our intrepid plate spotters sent in the following image in July 2008:

Offending North Carolina license plate

WTF is this?!?!

One would have thought that will all the publicity surrounding the North Carolina incident such a plate would have been nixed by the fine folks at ICBC who are charged with monitoring for "unseemly, vulgar, indecent or [slogans that] may offend any person", or maybe it is simply that this particular motorist has a rather fortuitous set of initials ...




* * * * *

While we are on the topic of offensive license plates, it escapes me how this culprit also got through the system as clearly it would be offensive to pretty much any hockey fan living in British Columbia (we are all Canucks!). I ask you, would Service Alberta ever let a "GO NUCKS" through? I highly doubt it!

This is pure blasphemy on a BC license plate!

There is, however, nothing disagreeable about this slogan!

!




* * * * *

Your eyes are not deceiving you! As part of the RFQ for the 2013 license plate contract, ICBC included this nifty little graphic as part of the listing of its current plate types. The RFQ advised that approximately 2,300 pairs of personalized plates would be required each year. While this is not, technically, new as we assume that the Corporation would suggest that the ability to personalise a plate with a six character slogan as well as a space represents a 7-digit plate, we still think it exciting to actually see the plates represented with all seven spaces used and a sign of things to come when "Transformation 2014" is finally completed.

UPDATE: 9 years later (e.g. 2022) and 7-character personalized plates have still to be introduced, however, we are hopeful that, as of May 2022 and the modernization of ICBC's computer system, this will soon be a reality!




* * * * *

It would not be wrong to say that a lot of dudes lack creativity when it comes to picking personalized plate slogans and have a tendency to restate the obvious by putting the make of their car on their license plate (as if the manufacturers markings don't convey the same message already?).

So, what is a dude to do when some other dude has already been issued the make of their car as a slogan? For the purposes of this exercise we will use Acura's NSX as an example (the model is a personal favourite of mine).

As can be seen below-left, since the "NSX" has already been issued and is affixed to an NSX (we are unsure of the model year but can confidently state it is white!), other dudes have to settle for a variation on the "NSX" slogan by - in this instance - adding a prefix of unknown meaning; "APX" (had we been asked, we would have suggested "ARG").

While we prefer the elegant Acura(cy) of the version at left, we will assign points to the dude whose plate is shown at right for managing to come up with an option that still incorporated the "NSX" rather cleanly. Full points, however, will be assigned to the dudes below who managed to get their "NSX" without having to drop the $100 application fee for a personalised plate to ICBC!

Not to belittle these dude's feat, but it certainly helps in tracking down these types of letter combinations when you have the power of social media at your fingertips and, in particular, a post on Reddit in which a fellow dude shared with other local NSX owners the location of an Autoplan Agent that had just received a box of "NSX" suffixes.

Interestingly, a box of plates usually comprises 25 pairs (50 plates total) and starts at numbers -00, -25, -50 and -75. If the photo at left is accurate in terms of the plates available when dude stumbled across this Autoplan Agent, then the series had already been cherry-picked for the more desirable numbers. Notice that "999-NSX" and "988-NSX" are not shown. "996-NSX" through to "998-NSX" are also missing and possibly were selected as the numbers corresponded to a model year? For what it is worth, ICBC generally frowns on plates being issued out of sequence, but many Autoplan Agents don't pay much heed to this rule (BCAA being a honourable exception). Regardless, well played sirs and we tip our hats to you!

* * * * *

Long before the story of the NSX owners above, there was Ed with his 1955 (the plate is a genuinely issued 1979 base):

Yet, after Ed came the motorist who was lucky enough to draw the 69th plate in the "D(I)CK" block! ICBC exclude combinations in the regular passenger series it thinks will be offensive but it can't catch them all!

* * * * *

In 2015, a motorist put a request into ICBC in order to have a personalised slogan proclaiming "WHT PRD" (White Pride) and was subsequently denied on the basis that it "may be considered not in good taste." Apparently, in researching the slogan, the ICBC employee responsible for screening slogans had found it on some "White Supremacist" web-sites, which was sufficient to turn-down the slogan.

Of interest to us, it seems this motorist appealed the rejection to ICBC's Fairness Commissioner which, if correct, is probably the first time a denied slogan has gone this route (as far as we here at BCpl8s.ca are aware). Not surprisingly, the Commissioner also rejected the slogan.

Not to be denied (but he ultimately was), this motorist then filed a compliant against ICBC with the BC Human Rights Tribunal in late 2015 "charging them with discrimination on the basis of race, colour and place of national origin."

As hinted at above, the Tribunal also knocked back the appeal stating it was not consistent with the purposes of the legislation the Tribunal operated under. End the matter, right? Not quite ...

In 2016, this same motorist proceeded to submit another application, this time for 1) "WHT BOY", 2) "WHT FLR" (White Feller) or 3) "WHT MAN". Again, all 3 of these slogans were rejected.

While the story essentially goes cold at this point, the protagonist was last seen canvassing for motorists of a non-European background willing to submit a slogan application proclaiming pride in their ethnicity such as "ASN PRD", "HSP PRD", "BLK PRD" or "NTV PRD" (he would pay all related fees for them). To read about this from the source, Click Here.

As can be seen with these examples, ICBC has already been issuing variations of "ethnic" slogans. While it could be argued that Sikhism is a religion (a type of slogan that is also banned), groups in the US have sought to have Sikh included on that country's Census as an ethnicity. Similarly, is Indian a nationality or an ethnicity?

It is increasingly apparent that ICBC has a difficult time applying its mandate to screen for offensive slogans in a consistent and fair manner and when questions of ethnicity start coming in to play we wonder if the Corporation is well equipped to be playing the role of censor? Really, what does an insurer know about community values anyway?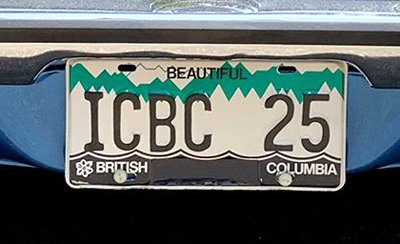 In 1998, ICBC wanted to commemorate its 25th anniversary with a car that could be displayed throughout the year and then raffled so the Corporation could recoup its costs with any excess proceeds going to the United Way. The car that was ultimately picked for this purpose was a 1973 Mustang convertible that the Corporation registered with personalized plates that read "ICBC 25" (for the anniversary). The driving.ca website published the full story on it
website
in 2021.
What we are assuming is a sheer coincidence, around the same time as the driving.ca article a "3M 25" personalised plate showed-up on an internet auction site. The history of this particular plate is unknown, but it does seem a really odd slogan for a motorists to select and has us wondering if something similar was done to mark an anniversary related to the use of 3M sheeting?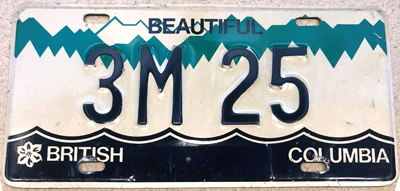 What is this, what is this?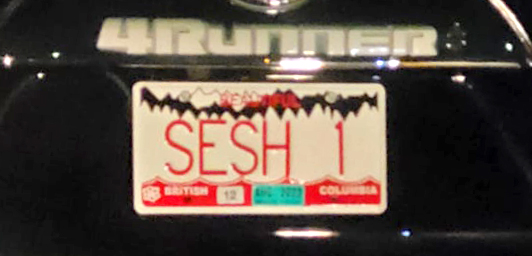 Seen on the roads in October of 2022, we don't know what to make of this plate spotting. It is not common for error plates to make it out into the wild in BC, so we don't know if this is legit due to the ink or sheeting getting mixed up, or if it is a custom job made overseas ("SESH 1" = Sichuan)? When we find out more, we'll update this posting?

© Copyright Christopher John Garrish. All rights reserved.