British Columbia Motive Fuel License Plates

An important component of the road user revenues collected by the provincial government were taxes levied on the sale of gasoline. In 1957, it was estimated that, of all the vehicle related revenue collected, the gas tax accounted for approximately 70.9%.
Policy-makers were concerned, however, that users of diesel were unfairly benefiting from the greater efficiency afforded by this fuel type, estimated to be between 40-65% more miles per gallon than cars or trucks of the same weight using gasoline. It did not help that diesel-powered trucks were also seen to place an extremely heavy burden of the road system .
In order to ensure that diesel users were contributing their fair share, the Provincial Government introduced the Motive-fuel Use Tax Act in 1960, which imposed a 12¢ per gallon surcharge on the sale of "motive fuel" (i.e. diesel) and prohibited its sale to any commercial vehicle "unless a valid emblem [was] displayed". The tax was payable on a monthly basis, with drivers required to record the amount of fuel used in that period and forward the paperwork to the government for processing.
The "emblem" took the form of the Motive Fuel licence plates pictured below, and these would be issued by the province through the 1960s before being discontinued in 1970 (with the 1970 plates expiring on June 1 of the following year):
1961 - 1968

Issuing Statistics

| | |
| --- | --- |
| 1961: | unknown |
| 1962: | unknown |
| 1963: | unknown |
| 1964: | unknown |
| 1965: | unknown |
| 1966: | unknown |
| 1967: | unknown |
| 1968: | unknown |
Shown at left is Dave Johnson with a first issue 1961 Motive Fuel license plate No. 1030 clipped to the inside of his truck cab.
(PHOTO CREDIT: Kevin Duddy)
Samples

Some rare examples of Motive Fuel sample plates.
1969 - 1970

Issuing Statistics

| | |
| --- | --- |
| 1969: | unknown |
| 1970: | unknown |
* * * * *

In many respects, the gas tax regimes implemented by the provinces and states throughout the 1960s added an extra barrier to trade. To combat this, Arizona, Iowa and Washington entered into an agreement that sought to simplify the reporting of fuel taxes by interstate haulers in the early 1980s.
The uniform system for administering and collecting taxes that these three state established would later form the basis for the International Fuel Tax Agreement (IFTA), which the US Congress order all states to participate in by 1996 of be faced with a reduction in the highway funding grants they received from the Federal Government.
British Columbia would join the IFTA by 1996 and now issues decals to commercial truckers that are to be applied to the side of their vehicle.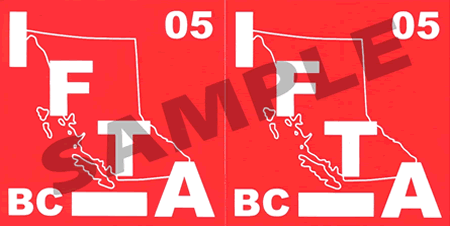 © Copyright Christopher John Garrish. All rights reserved.