British Columbia License Plates
in the time of Covid-19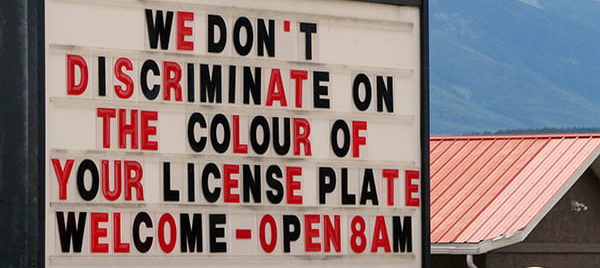 An interesting aspect of the provincial health emergency related to COVID-19, is what became known as "Plate Hate" throughout the spring and summer (and beyond) of 2020.
In short, with the International Border closed and other non-essential travel discouraged, social distancing and bubbles encouraged and limits on the number of people who can gather or socialise together, a wider swath of British Columbians began to pay attention to the license plates on vehicles - particularly when those plates were not from BC.
The first media reports about people with out-of-province license plates being targeted in the Kootenay's began to appear in mid-May, which is also historically the start of the summer tourist season in the province.
This included a couple of vehicles with Alberta license plates, one of which had a note attached to it telling the driver to Fuddle Duddle back to Alberta while the other vehicle was keyed:
Eventually, the "Plate Hate" spread to the Lower Mainland and Vancouver Island as people began to become concerned that Americans were exploiting a loop-hole that allowed them to enter into the country if they claimed to be driving to Alaska, and were using this as a way to camp in BC.
Six Americans were eventually fined in July of 2020 for violating the Quarantine Act in British Columbia. The Canada Border Services Agency subsequently announced that it was closing the "Alaska loophole" that had allowed an unknown number of American travelers to claim to be going to the state via BC, but stay in the province to vacation instead.
In response to these events, an interesting phenomenon of notes being posted in the rear view windows of vehicles with out-of-province plates (primarily those of US states) emerged in which statements explaining their presence in Canada were made.
These ran the gamut from BC residents stuck on this side of the border due to the closure, students in the province temporarily for their studies to individuals who had successfully the required quarantine procedures:

With the proliferation of these protestations that drivers of vehicles with US plates were all in the province for legitimate reasons, questions began to be raised about how this could possibly be:
This was a fair question given Section 21 (Registration of foreign motor vehicles and trailers) of the Motor Vehicle Act suggests that "at the earliest opportunity and in any event not later than 30 days after [a] motor vehicle or trailer is brought into British Columbia, the owner must cause the motor vehicle or trailer to be registered with the Insurance Corporation of British Columbia."
While exemptions are provided for military personnel and students, it seemed that many more people had potentially disregarded this requirement to avoid higher registration and insurance rates in BC.
Concern about the number of out-of-province plates even prompted Premier Horgan to comment on the issue with some rather blunt advice to drivers;
With respect to those who have offshore plates and are feeling harassed, I would suggest perhaps public transit. I would suggest that they get their plates changed. I would suggest that they ride a bike.
There's a high degree of certainty in British Columbia that we want to keep our borders closed until neighbouring jurisdictions get a better handle on COVID-19. I think that those who are overtly declaring by their licence plates that they've come from somewhere else should be mindful of that and act accordingly.
If you feel [anxious] travelling with your plates, identifying yourself as someone from away, at a time of heightened anxiety, I think it's incumbent on those individuals to take steps to reduce that anxiety. Doesn't seem jaw-dropping to me.
In one of the uglier incidents, a group of nuns visiting Kitimat decided to take a tour of communities in the area. Unfortunately, the van they used sported Alberta plates. This along with their vocation caused a conspiracy theory to take root on social media (where else; Facebook) that the nuns were possibly involved in sex trafficing and kidnapping and that parents were urged to keep children safe and away from the van. Some of the choice comments from residents in the area included:
Late last night a van full of 'nuns' were trying to get into the village to go pray for our people. I respect that, but something was fishy about it. They were found in the Nass Valley today as well.
I'm not sure why my gut is leaning towards the suspicion of sex traffickers, we can never be too careful.
Creepy van full of nuns going around trying to go from village to village everyone keep your kids safe!!! Don't let your kids travel around alone.
Once the nuns became aware of the comments "they became more fearful in public" and, after being approached by a stranger while picnicing in Prince Rupert, "the sisters became very scared, packed up their picnic, and went back to Kitimat, where they were staying. They then tried to not stop as much on their drive back to Edmonton because they were afraid of being harmed."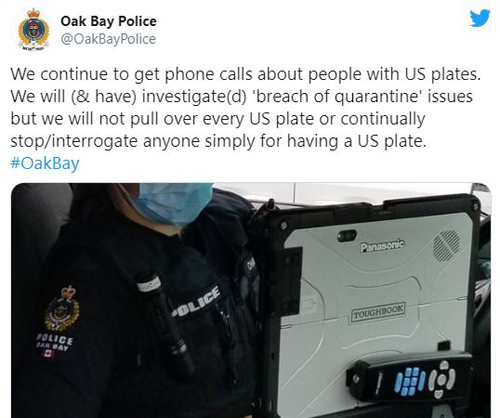 Seeking to ensure border protections were being properly enforced, calls to local police forces about cars with US plates started increasing, causing some, such as the Oak Bay Police, to put out a social media post clarifying that driving with an out-of-province license plate was not necessarily a crime.
An even uglier incident than the case of the wrongly accused nuns was a fellow in Victoria whose truck displayed Texas license plates and was vandalized as a result (not only was it spray painted, but the plates were stolen!):
It turns out the owner of the truck was a Canadian citizen that had completed all of the necessary quarantine and was in town to visit his kids who attend UVic (whoops!).

© Copyright Christopher John Garrish. All rights reserved.