British Columbia Amateur (Ham) Radio License Plates

"Ham: a poor operator. A plug."
| | |
| --- | --- |
| | |
| | At far left is a photo of David Scholes, past Secretary of the Victoria Short Wave Club, at his radio, above is a photo of the Victoria Short Wave Club in 1932 and near left is a photo of Markus Hansen at his radio in the 1960s. |
Simply put, an amateur radio operator is a person holding written authorization to be the control operator of an amateur station. A central facet of this communications system is the call sign. As a member of the Empire, Canada, along with other Colonies, were issued signs beginning with the letters "V" shortly after the Great War. In Canada, the three-character prefixes ranged from VE1 to VE0 and were assigned to the provinces on an east-west basis. Therefore, the Maritimes were VE1, Quebec was VE2 and British Columbia was VE7, and so on …
The first license plates with amateur radio call signs on them were issued by Michigan in 1939. Legislation there allowed for a maximum of 3 letters and 3 numbers, corresponding with the operators sign, but the format proved too complicated for officials administering the program and Michigan discontinued the plates the following year. Support for the plates would remain dormant until the 1950s and the beginnings of the Cold War. The need to quickly identify experienced ham operators in the event of an emergency became an important public safety issue. Florida would issues the first true, or modern ham plate in 1950 to be followed quickly by other state's, while the first Canadian plates would be issued in 1952.
At left is a photo of the "Civil Defence Radio" van that was used by the City of Surrey in the mid-1960s for training exercises and included amatuer radio gear.
Above, prior to the issuance of official Ham plates by the province it is thought that some operators ordered their own booster plates to be displayed above their regular passenger plates and which displayed their call numbers. Shown at left is a swap meet find that is thought to be one of these plates (measuring 8" x 2.5") and belonged to an operator out of Kelowna.
In British Columbia, the impetus to authorize ham plates can be traced back to the 1948 flood of the Fraser River, when 16,000 people were evacuated from the Upper Fraser Valley, 2,300 homes destroyed or damaged and all rail, road and air connections to the east severed.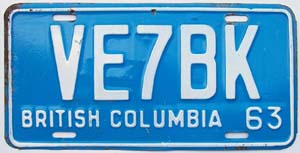 Lacking any special markings, ham operators with mobile equipment in their cars were turned away by police and other authorities at the flood zone, unable to get to their allotted positions and aid in the rescue operations.For years afterwards, Stanley Carnell, the M.L.A. for Peace River and a ham operator himself, lobbied the Legislature every spring during license plate renewals for a special ham plate. Only belatedly, after Carnell had shamed the provincial government by declaring that every other Canadian province and forty-six of fifty states had the plates did B.C. institute their own in 1963. Attorney-General Robert Bonner was quoted at the time as saying that; "if we are in fact the last province, I think we should review our position."
It was estimated that of British Columbia's 1,500 amateur radio operators in 1963, about 120 would apply for the special license plates. As the province's designation was VE7, this would appear as the first prefix on all ham plates, to be followed by the users own two or three letters to complete the sign. More importantly, ham radio license plates would be the first specialty plates ever issued in British Columbia.
1963: First Issue
1964 - 1969: "Beautiful" Slogan
| | |
| --- | --- |
| | To mark the Centennial of Canadian Confederation in 1967, the province implemented a red-and-white colour scheme on its license plates, including the amateur radio plates. Shown at left is an example of the 67 ham plates, brought to us by VE7-BSJ. |
1970 - 1972

Comments

Registration declas used on this base are the same as those issued for use on passenger vehicles for the years 1970-1972.
1973 - 1978

Comments

Registration declas used on this base are the same as those issued for use on passenger vehicles for the years 1974-1978. ACME dies appeared on plates issued with 1978 declas.
| | |
| --- | --- |
| | Once upon a time, there was an expectation that vehicles displaying an Amateur Radio plate would have radio equipment on-board for use in case of an emergency (and could usually be identified by the over-sized antennae's sticking out of the vehicle). Over time, this expectation changed and the plates came to be used more to identify the driver as someone experienced with using radio equipment (and the size of vehicles displaying Ham plates shrunk). |
1979 - 1986: "Blue" Base Plate

Comments

Registration declas used on this base are the same as those issued for use on passenger vehicles for the years 1980-1986.
1986 - 2002: Flag Graphic / Astrographic Dies

Comments

Registration declas used on this base are the same as those issued for use on passenger vehicles for the years 1986-2002. Introduction of "VA7" prefix occured in 1999.
In 1999, B.C.'s three-letter prefix has been expanded to include VA7. This was done in order to accommodate the growing number of Ham Radio operators in the province (who were also apparently complaining that all the good suffixes were taken). If you would like to see a list of the remaining call signs available in both the VE7 and VA7 format, just following this link:

http://www.rac.ca/acl/bc/all.html
2002 - present: Flag Graphic / Waldale Dies

Comments

Registration declas used on this base are the same as those issued for use on passenger vehicles for the years 2002-present. Introduction of Waldale dies occured in 2002.
The plates shown above are actually valid British Columbia Ham plates despite displaying a "VE3" prefix, which is one the call signs for Ontario. Despite the ICBC web site proclaiming that "amateur radio operators moving to B.C. from another province must apply to Industry Canada for a B.C.-prefixed call sign", it would appear that this has not always been the case (or that the rule is loosely enforced).
Dual Decal Well: 2014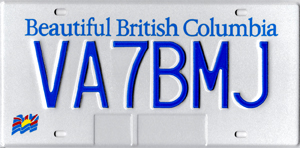 Thanks to this submission from Bill Manners (VA7BMJ) we now know that the HAM base has been switched over to the dual decal as of October 2014 (and possibly sooner than this).
Spicey Ham!
An interesting aspect of the Ham Radio plates is that Call Signs are assigned by the Federal Government (Industry Canada) and the feds do not appear to apply any filters to the combinations of letters that can be applied for.
Conversely, ICBC is usually pretty-straight laced and puritanical when it comes to the slogans it will allow to be displayed on a license plate, but has effectively ceded this oversight to the Federal Government when it comes to Ham Radio plates with some very amusing results:
We suspect that these are probably some of the only instances where ICBC will allow a license plate to promote fornication (top left) and drug consumption (top right).
---
Sources
Mike Ludkiewicz, "First Year of Issue Amateur Radio (HAM) Call Sign Auto License Plates", http://www.pl8s.com/hams.htm (October 25, 2001).
City of Vancouver, "The Great Flood of 1948", http://www.city.vancouver.bc.ca/greaterdot/gv2000/episode3.htm#link3 (October 25, 2001).
Vince H. Seward, "cFlat's Ham Radio License Plates", http://plaza.powersurfr.com/vseward/lplates_ham.html (October 25, 2001).
Joseph Sallman, "Ham Radio License Plates", http://www.canplates.com/hamradio.html (October 25, 2001).
Victoria Colonist Newspaper.
Victoria Times Newspaper.

© Copyright Christopher John Garrish. All rights reserved.