British Columbia National Defence License Plates

At the same time as it was introducing restrictions to limit the use of materials in the production of license plates (i.e. only single plates between 1941-47), the Federal government also reached an agreement with British Columbia regarding the creation of a special plate to be issued to "National Defence" vehicles owned and operated by the Federal Department of National Defence (DND).
These plates were identifiable by their 'N' prefix and issued for only a nominal fee starting in 1941 and continuing through to 1969.
1941 - 1948

1943

Issuing Statistics

| | |
| --- | --- |
| 1941: | unknown |
| 1942: | N1 to N600 |
| 1943: | unknown |
| 1944: | unknown |
| 1945: | unknown |
| 1946: | unknown |
| 1947: | unknown |
| 1948: | unknown |

1945

1946

1947

1948
1942 Oddball

This is one of those oddballs that surfaces from time-to-time and simply defies explanation. Despite the available MVB information indicating only 600 "N" plates were issued in 1942, we know from the other example shown above that the actual number is quite higher than that, while the "ND-76J" plate shown immediately above would seem to indicate that the number is actually quite higher. It is assumed that the "ND" denotes "National Defence", but why or how the two additional letters was used is a mystery.
Pacific Coast Militia Rangers (PCMR)
Pictured above are two Pacific Coast Militia Ranger (PCMR) plates from Bill Hobbis' collection (Nos. 117 & 129), also shown is a wood plate (No. 71) that was donated to the City of Penticton Archives and No. 60 from the MSA Museum Society (Abbotsford, ID #2014.17.18).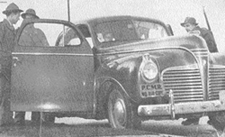 The PCMR began as the Coastal Defence Guards and were organized into the Pacific Coast Militia Rangers (PCMR) in 1942 to protect British Columbia and calm public unease over possible enemy activities following the attack at Pearl Harbour and declaration of war against Japan.
The PCMR's drew their ranks from men deemed to be exeperienced in the bush such as loggers, trappers, prospectors and ranchers as local mitlia's were deemed to be ill-suited for the rugged landscape of the back country and more effective in the urban environment
It is understoof that there were approximately 138 different companies formed across the province which operated through the War before being stood down on September 30th, 1945. Should you wish to read more about the Rangers please
Click Here
.
1949 - 1951

1950

Issuing Statistics

| | |
| --- | --- |
| 1949: | unknown |
| 1950: | unknown |
| 1951: | unknown |
1952 - 1953

1953

Issuing Statistics

| | |
| --- | --- |
| 1952: | unknown |
| 1953: | unknown |
1955 - 1963

1956

Issuing Statistics

| | |
| --- | --- |
| 1955: | unknown |
| 1956: | unknown |
| 1957: | unknown |
| 1958: | unknown |
| 1959: | unknown |
| 1960: | unknown |
| 1961: | unknown |
| 1962: | unknown |
| 1963: | unknown |
An Admiral Plate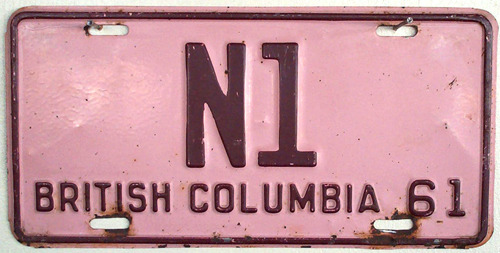 As with most low numbered license plates, it is not unusual to find that they were generally assigned to individuals of some renown (usually political). The 'N' prefix plates are probably no different in this regard as it has long been held that the first plate in the series generally went to the top Admiral at Canadian Forces Base (CFB) Esquimalt - home to the country' Pacific Fleet.
1964 - 1969: "Beautiful" Slogan

Issuing Statistics

| | |
| --- | --- |
| 1964: | N1 to N2-400 |
| 1965: | N1 to N2-400 |
| 1966: | N1 to N2-400 |
| 1967: | N1 to N2-200 |
| 1968: | N1 to N2-200 |
| 1969: | N1 to N2-200 |
* * * * *
A spokesman for the MVB said at the time that about 3,800 vehicles would be affected, but that since the Federal government paid only a token $2 fee for the plates the loss of revenue to the province would be "about $7,600, and that is probably less than the administrative costs involved. In fact we are the winners rather than the losers."
Ottawa would continue to remit the same road tax to the provincial government that they had previously been charged, while also provide a listing of all the plates in use for identification purposes.
Starting in 1970, the Federal Government opted to introduce a standarised licnese plate for use on its vehicles throughout the country:
| | |
| --- | --- |
| | |
In this photo, taken on January 28, 2010, a Bandvagn-206 (BV-206) vehicle is taking part in a re-supply mission in Whistler ahead of the Winter Olympic Games being staged in Vancouver that year. Clearly visible is on the standardised Department of National Defence plates that have been in use since 1970.



Canadian Forces Image Number IS2010-9752-01
By Sergeant Frank Hudec with Canadian Forces Combat Camera
Motorcyle

Issuing Statistics

| | |
| --- | --- |
| 1942: | N1 to N250 |
| 1943: | unknown |
| 1944: | unknown |
| 1945: | unknown |
* * * * *
Another quirky sub-set of the DND plate types are those that were created for the various bases situated throughout the county, including those in British Columbia. Information on these plates is scant, but it is understood that they were generally issued to military members stationed at the bases in order to signify their status to the guards at the gate and, therefore, allow for quicker access to the base.
It is possible that different colours were issued to different ranks but, again, information on this is hard to verify (anyone with any history with these plates is encouraged to drop me a line). Similarly, the plates themselves are also hard to find with many of the known examples consisting of manufacturers samples.
Originally opened by the Canadian Air Board in 1920 as the Jericho Beach Air Station, the site was turned over to the newly formed RCAF in 1925 and became one of several Flying Boat Stations established on the west coast. In 1942, the site would become home to the Army's Pacific Command Headquartes. The detachment was formally closed in 1996. It is not yet known what the precise purpose of this license plate, orthers like it might have been.

Source:

Military Bruce

Due to the threat of Japanese incendiary balloons established an airfield at Tofino with access by

logging road

and water. It is thought the base was operational until 1958. It is not yet known what the precise purpose of this license plate, orthers like it might have been.

The RCAF established a presence at the Vancouver Airport on July 22, 1940 under the British Commonwealth Air Training Plan as No.8 Elementary Flying Training School. The station remained open after World War II and was re-named RCAF Station Sea Island, but this was later changed to RCAF Station Vancouver. The Station was ultimately closed in 1964. It is not yet known what the precise purpose of this license plate, orthers like it might have been.


CLICK HERE
This photo comes from the web site of

Greg Williams

, and show a picture of Kenneth Andrew Creery in Vancouver (circa 1914) beside his Indian motorcycle. The "OHMS" tag on the front fender of the motorcycle, which technically not a license plate, is interesting nonetheless. "OHMS" stands for "on His Majesty's Service" and is assumed to be related to activities during the Great War in Canada.

© Copyright Christopher John Garrish. All rights reserved.