British Columbia Private Road / Special Agreement License Plates

A special thanks to Paul Keenleyside (ALPCA #5595) for providing most of the information found on this page,
and Andrew Osborne (ALPCA #3259) for consenting to its reproduction on these pages.
The authority to issue Special Agreement license plates was originally derived from the Industrial Roads Act, and prior to amendments being implemented in the early 1970s following the election of the New Democratic Party, it is thought the logging companies were required to produce their own identification plates, and that the following are some examples:
Private Road Plates
We here at BCp8s.ca continue to work on unearthing more information on these Private Road license plates and hope to bring you more information soon.
* * * * *
Special Agreement plates are one of the hardest of modern BC plate types to find, be it on the road or in the hands of a plate collector. This is because very few of these plates were ever issued, and when they were issued it was only to two companies in relatively small, isolated communities.
There are generally three prefixes that are associated with the Special Agreement plate type. These are the "GR" prefix that were issued to Tahsis Forestry Company and truck owner-operators contracting to the company around the area of Gold River (a former company town). The second type is the "CL" prefix which was issued to Cominco in the town of Trail, and finally the "SA" prefix which amalgamated the former two prefixes into a single plate type in 1985-86 when the Flag Graphic series was first issued.
Gold River is located approximately 60km west of Campbell River on Vancouver Island, and was originally developed in 1965, with a pulp and paper mill that opened in 1967 and operated continually until a down-turn in the forestry sector in the late 1990s forced its closure in 1999.
At left, the welcome sign to Gold river. Above, an aerial image of Tahsis with the inlet and forest covered slopes.
Due to the topography of the area, when Gold River was developed there was no room for both an exclusive logging road and a public highway. So, the British Columbia Highways Department re-engineered the logging road with 12-foot lanes as part of Highway 28. Once the road was finished, plates were issued (not the modern SA plates), so that the large logging trucks could legally use the highway when fully loaded.
These trucks could only otherwise use Highway 28 if they were empty and escorted by a pilot car. In the 1970s, there was Company Logging Division (otherwise known as a "Camp") located west of Gold River. The majority of the trucks used at this camp were fitted with the GR series Special Agreement plates, as were some of the private truck owners contracted to haul lumber to the mill.
Trucks with these plates generally tended to weigh anywhere from 120 to 140 tons (or more when pulling a log wagon with trailer). When fully loaded, the trucks could be from 12-14 feet wide. Of the trucks used, all of them were built in the Vancouver area for West Coast use although there were also Canadian Kenworth and Pacific.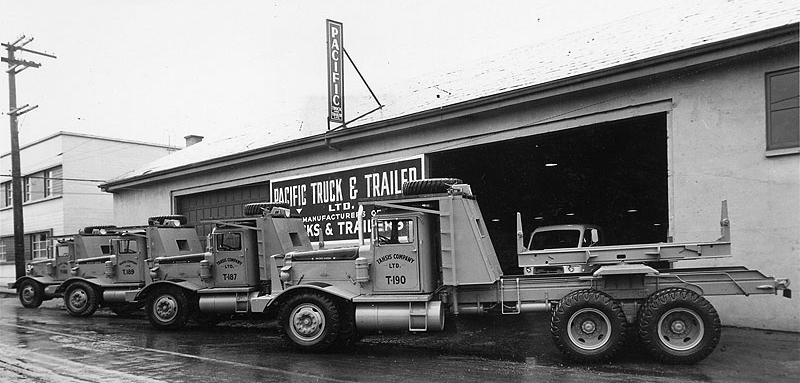 In this photo, courtesy of Bob Dingsdale, are a number of Pacific trucks destined for work in the Gold River and emblazoned with the name of the "Tahsis Company Ltd" on the side of the driver's door.
Photos courtesy of Bob Dingsdale
First known issue of the GR plates was in 1973, with new plates being issued each year (with alternating colours) to 1979 when yearly validated plates in the red-on-white colour scheme (similar to the Dealer and Repairer plates issued that same year). As mentioned above, when the Flag Graphic came out in 1985, the plates switched to the current 1234-SA format.
1973 - 1978 : Gold River

Issuing Statistics

| | |
| --- | --- |
| 1973: | unknown |
| 1974: | unknown |
| 1975: | GR-201 to GR-250 |
| 1976: | GR-251 to GR-300 |
| 1977: | unknown |
| 1978: | unknown |
1973 - 1978 : Cominco

1973

1975

Issuing Statistics

| | |
| --- | --- |
| 1973: | unknown |
| 1974: | unknown |
| 1975: | CL-551 to CL-575 |
| 1976: | CL-576 to CL-600 |
| 1977: | unknown |
| 1978: | unknown |

1977

1978
1979 - 1985 : Gold River

1979

1981

1983

1985
1979 - 1985 : Cominco

1979

1980

1982

1983

1984

1985
Much to our surprise at BCpl8s.ca, we were alerted in 2009 to the continued existence of the Special Agreement plates at Gold River. Despite the low resolution of the adjoining photos, "SA" suffix plates are clearly visible on the trucks and, as of 2006-07, were into the 0600-SA range. Interestingly, in ICBC's 2013 RFQ for license plates, Special Agreement plates are still part of the contract, are "rarely" ordered with about 50 pairs issued every year through a local Autoplan Agent serving the Gold River area.

© Copyright Christopher John Garrish. All rights reserved.