THE

Records of "I" Company.

A BRIEF HISTORY

OF THE
EAST SURREY VOLUNTEERS
SERVICE IN THE
SOUTH AFRICAN WAR.
BY

ARTHUR GEORGE (A.G.) GARRISH

______________________
1901.
______________________

To the Memory
OF OUR
FIVE GALLANT COMRADES
WHO SLEEP UNDER THE VELDT
IN SOLDIERS' GRAVES,
THIS RECORD IS AFFECTIONATELY DEDICATED.
"Never has a mother had more reason to be proud of her valiant sons then England has to-day. And so we stand, and please God shall continue to stand, a united, world-wide Empire, bound together by ties of blood, friendship, and an equal love of justice and truth, ready now, henceforth, and for ever to fulfil the glorious destiny of our race." - Lord Roberts' Speech at Cape Town, Dec. 10, 1900.
_________________________________
"The service which the South Africa Force has performed is, I venture to think, unique in the annals of war … For months together, in fierce heat, in biting cold, in pouring rain, you, my comrades, have marched and fought without halt and bivouacked without shelter from the elements. You frequently have had to continue marching without your clothes in rags and your boots without soles. When not engaged in actual battle you have been continually shot at from behind kopjes by invisible enemies to whom every inch of the country was familiar … You have covered with almost incredible speed enormous distances, and that often on very short supplies of food. You have endured the sufferings inevitable war to sick and wounded men far from the base, without a murmur and even with cheerfulness. You have, in fact, acted up to the highest standard of patriotism … Is it any wonder that I am intensely proud of the Army I have commanded, or that I regard you, my gallant and devoted comrades, with affection as well as with admiration, and that I feel deeply the parting from you." - Lord Roberts' Farewell to the Troops, December, 1900.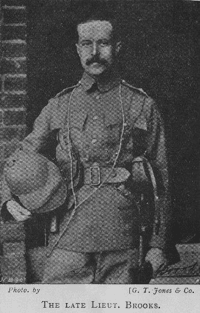 CONTENTS.
_______

PREFACE
INTRODUCTION
CHAPTER I. - From Kingston to Durban.
Our Environment, Preparation, and Send Off - Incidents of the Voyage - Las Palmas - Neptune's Visit - A Burial at Sea -In Table Bay - Round the Coast - On Durban Quay - January 22nd to April 9th, 1900.
The Journey Up-Country - Pietermaritzburg Camp - Moving to the Front - Scenes on the Tugela - Ladysmith the Impregnable - The Soldier in the Field - We are Christened "I" Company - April 9th to April 17th, 1900.
Striking Camp - The March to Surprise Hill - Loss of a Comrade - Incidents of Camp Life - Bad Water and Sickness - The Order to Move - Pepworth Farm - April 17th to May 8th, 1900..........
A Sleeping Army - Again on the March - General Clery and His Men - In Touch with the Enemy - Through Helpmakaar Pass - The Biggarsberg Position Turned - A Terrible March - Dundee - May 9th to May 15th, 1900.
Re-occupation of Dundee - Ideal and Reality - Further Progress - Cartridges in a Grass Fire - First into Newcastle - The General's Congratulations - Before Majuba - A Brief Lull - The Storming of Inkweloane - A Memorable Day - Outposts in the Clouds - May 16th to June 8th, 1900.
Through Botha's Pass - We Enter the Free State - On the Brink of Battle - The Position Described - Advancing to the Attack - Under Shot and Shell - Through a Fierce Cross-Fire - The Dorsets' Gallant Dash - The East Surrey's in Hot Pursuit - The Roll Call - Buller's Successful Strategy - Our First Boer Town - Back into Natal - Boer Looting and British Magnanimity - June 9th to June 13th, 1900.
A Welcome Rest - Bad News for "I" Company - A Night Tramp - Sleeping under Difficulties - The Army again Moves - A Marvellous Picture - Standerton Occupied - The Resurrection of the Old Flag - June 14th to June 24th, 1900.
A Needful Wash - Canteen Comforts - Railway Building - The Suspicious Corporal - Incidents on Guard - Arrival of the Draft - Their Voyage Out - The March Up Country - Buller Enjoys the Sports - Beer - June 24th to July 27th, 1900.
Expedition to Joubert's Kop - Off in the Darkness - The Enemy Once More in Sight - An Easy Victory - A Trying March Home - Guarding the Line - Escort Up-Country - A Soldier's Funeral - Farwell to Standerton - On Communications - Under Red-tapists - July 28th to October 7th, 1900.
Homeward Bound - Plundered, but not by Boers - Premature Rejoicings - Up-country Once More - Van Reenen's Pass - Enchanting Scenery - Our Occupations, Amusements, and Losses - October 8th to December 24th, 1900.
A Midsummer Yuletide - A Valuable Discovery - Rainey Season on the Mountains - The Queen's Death - Fortifying the Post - To the Upper Tugela - Work and Sport - Homeward Bound at Last - Farewell to Durban - Our Voyage in the Custodian - December 25th, 1900, to June 7th, 1901.
Once More England - Friends, Flags, and Festivities - Colonel Pearse's Opinion - Some Points and Conclusions - June 8th, 1901.