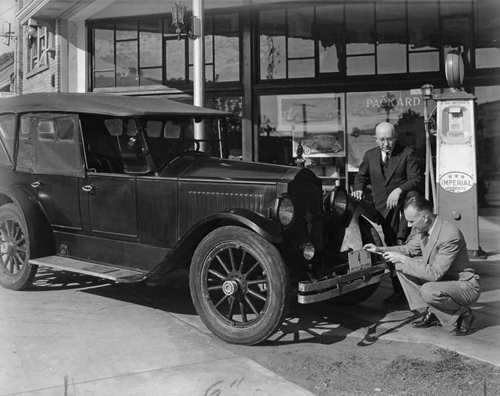 TITLE: 1921-1922 Packard touring car in front of British Columbia Packard dealership
Oddly enough, the photo at left comes from the collection of "The Making of Modern Michigan" - a collaborative project involving 52 Michigan libraries headed by Michigan State University.
It seems that the photo is part of a collection related to Packard Dealerships across North America. For our purposes, however, the significance of the photo is the 1935 No. 4 license plate being attached to the front of the vehicle.
It is known that a Mr Fred W. Jones of 1630 Rockland Avenue in Victoria is reported to have had No. 4 registered to his vehicle "for about 25 years" in 1940 - and it is assumed that he is one of the individuals in this photo. Len Garrison would later acquire the plates from Mr Jones.
It is thought that the Packard Dealership was likely that of Thomas Plimley found at either 1010 Yates Street or at the corner of Broad Street and Broughton in Victoria.
Only one word can describe this photo - Fantastic!
As an aside, we here at BCpl8s.ca applaude the enlightened approach adopted by the "The Making of Modern Michigan" project of making this digital image freely "available for all educational uses worldwide."